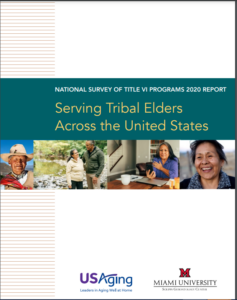 Title VI Native American Aging Programs (Title VI programs), funded by Title VI of the Older
Americans Act, are an important resource to support the health, wellness and social
engagement needs of Native elders by providing nutrition, supportive services and caregiver
supports to American Indian, Alaska Native and Native Hawaiian people living on tribal lands.
In tribal nations and Native communities, elders are highly respected as the keepers of traditions, culture and language and play a vital community role in passing down their wisdom. Native elders face many challenges, such as higher rates of poverty and chronic disease, compared with the larger population. Therefore, the services that Title VI programs provide to address the health-related social needs of elders, such as meals, transportation, in-home services and family caregiver supports, are critical. These in-home services and supports help to ensure that elders can continue to live in their homes and communities as long as possible.
A report from Network partner, USAging, describes the findings of the National Survey of Title VI Programs, which is funded through the U.S. Administration for Community Living and is conducted every three years. The survey explores trends, new directions and evolving needs of Title VI programs across the country. It also gathers information on staffing, budget and services offered, including services for kinship/grandfamilies. Fielded during the COVID-19 pandemic, the survey also gathered data on the impact of the pandemic on Title VI grantee services. Key findings from the report include:
At the time of the survey, 73 percent of Title VI programs provided supportive services for grandparents raising grandchildren.
Title VI programs partner with a variety of organizations to meet the needs of the elders they serve, including tribal health care, the Indian Health Service, tribal housing, adult protective services, tribal health departments, and Area Agencies on Aging/Title III service providers.
The most commonly reported unmet needs for elders are home repair, money management, help in home/personal care and home modification.
As a result of COVID-19, 85 percent of Title VI grantees reported that the number of people they serve has increased, and 82 percent reported that the needs of their existing clients have increased.
The most common services added or expanded during the pandemic were home-delivered meals, delivery of grocery and essential supplies, telephone reassurance or wellness check-ins, provision of personal protective equipment (PPE) to elders and providing elders with activities to engage them at home.
Read the full report. Access more information from USAging's research page.
More on This Topic