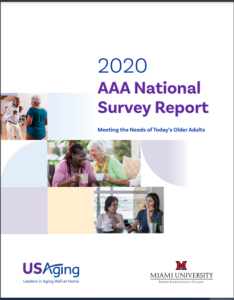 With the population of older adults in the United States set to grow to 73 million by 2030, Area
Agencies on Aging (AAAs) are more important than ever in supporting individuals in their preference to age at home and in their communities with maximum health and independence. AAAs are deeply rooted in their communities and provide critical supports that serve older adults, caregivers and, in many instances, people under the age of 60 with disabilities.
The Network's partner, USAging, describes the findings of the National Survey of Area Agencies on Aging, which was conducted in 2019. The survey explores trends, new directions and evolving needs of AAA programs across the country. It also gathers information on staffing, budget and services offered, including services for kinship/grandfamilies. Key findings from the report include:
Fifty-two percent of AAAs have special programs targeting kinship/grandfamilies and another 17 percent would like to do so but need more support.
AAAs offer an average of 27 critical services to older adults in their communities. In addition to the core services required under the OAA, AAAs address local community needs through services such as care management, home modification and repair services, options counseling, and services offered in senior centers and adult day care facilities.
AAAs serve a variety of populations in addition to older adults, and many provide services to groups such as individuals under 60 who have a disability, impairment or chronic illness; people living with dementia and their caregivers; individuals living with dementia of all ages; and grandparents raising grandchildren.
AAAs provide a range of housing and transportation services, which are critical to helping older adults live independently in their homes and communities. Sixty-one percent of AAAs provide home modification and repair services and 89 percent of AAAs provide transportation services.
AAAs leverage an average of 17 formal and informal partnerships with other agencies and organizations to expand the reach and impact of their programs in their communities. The most common AAA partners are Adult Protective Services (92 percent), transportation agencies (88 percent), State Health Insurance Assistance Programs (SHIPs) (86 percent), and emergency preparedness agencies (83 percent). Many AAAs work with health care partners, such as Medicaid (80 percent), hospitals and health care systems (74 percent), and health plans (62 percent).
The National Survey of Area Agencies on Aging is funded through the U.S. Administration on Aging within the Administration for Community Living and is conducted every three years. The survey tracks important new trends in programs, services and funding affecting older adults in communities across the United States.
Download the full report. Access more information from USAging's research page.
More on This Topic